Been awhile my lil' Doomchamps! So...it's the new year, hope everyone's doing well! I come bearing great news: I GOT A HUION KAMVAS 13!!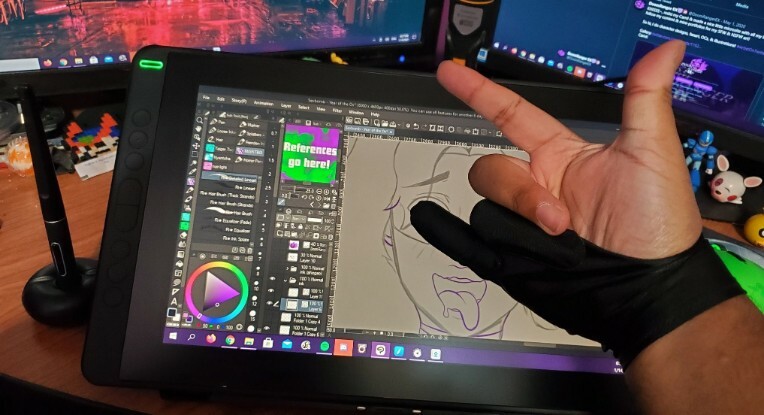 That's right, after 3yrs of using a Wacom Intuos S, I finally decided to not only go bigger but also try out a pen display tablet for the first time that is also my first Huion model and after a week of use, I hereby deem the Huion Kamvas 13…a DoomRanger Guarantee.
Ngl, after all these years using a normal pen tablet, it took me some time getting used to it, especially the anti-glare screen, which is easy but weird on the eyes and it does feel like paper drawing on it along with smelling like it. I was worried the screen was gonna be too small for my view & hands but it feels so great, especially after reworking a little of my CSP workspace and setting up the buttons! Not only that but the drawing glove is a godsend as it eases my hand, even when it's against the screen. I also really loving having a stylus holder which makes it easier to store my stylus on a safe place instead of just placing it on a random spot on my desk. Even comes with a lot spare nibs inside, too!
The pen itself felt like more like an actual pen and mechanical pencil compared to the stylus I use with the Intuos S and the grip feels pretty smooth. Been painting & shading so far, especially testing out the pen & pencil tools and everything feels much better & precise than what I'm usually comfortable with on the Intuos S along with being more immersive as though I'm actually painting the drawing. Even using the Lasso Tool feels like a dream now and I can make shapes and fill spaces without being too shaky doing it and my pen strokes are much more accurate and elegant! The 8k pressure sentivity is a fine step up from the Intuos, which was far less than that, which further helps set in the immersion quite well!
Even cooler is that I can watch Wallpaper Engine wallpapers on my left screen to relax me while I watch streams on the other screen as I draw, especially also keeping up with the Discord servers as well!
Only thing is that you have to be sure to calibrate the contrast & brightness and stuff before painting and such. Colors looked different compared to what I see on my monitors but it was no biggie at all, didn't take too long, no pressure.
---
So, to summarize all that down for ya....GET THE FUCKIN' KAMVAS 13. Even got it for a good discounted price on Amazon for only $220, too!